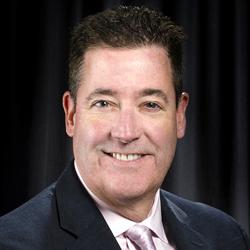 Mr. McSweeney is an experienced technology business executive with over 30 years of proven defense and aerospace leadership experience. He currently serves as President of Telephonics, a subsidiary of Griffon Corporation, headquartered in Farmingdale, New York.
Mr. McSweeney was appointed to his current position in 2016 and is responsible for meeting fiscal objectives for a company of nearly 1,100 employees with revenues approaching $500 million.
Prior to assuming his current role as President of Telephonics, Mr. McSweeney served as the Executive Vice President and Chief Operating Officer with responsibilities spanning across all operations, including the company's five business segments, a joint venture in India, as well as the engineering and technical development, business development, supply chain management, manufacturing and information systems organizations. He was also responsible for ensuring successful engagement with Telephonics customer base including Lockheed Martin, Boeing, Sikorsky, Northrop Grumman, Airbus Helicopter, Airbus Military as well as the Department of Defense, U.S. Navy, Federal Aviation Administration (FAA) and Department of Homeland Security.
From 2004-2012, Mr. McSweeney served as the Vice President and General Manager of Telephonics' Radar Systems business segment, where he was responsible for producing advanced, multi-mode maritime, weather and surveillance radar systems for domestic and international customers.
After starting his career with Grumman Aerospace, Mr. McSweeney joined Lockheed Martin in Syracuse, New York where he enjoyed a successful, 16-year tenure. Advancing through several positions of increasing corporate responsibility, Mr. McSweeney was named Vice President of Lockheed Martin's Maritime Safety, Security and Surveillance (MS3) business in 2003, responsible for port security, coastal surveillance, search and rescue, integrated weather systems, mobile emergency, command and control safety and flight safety products.
From 2000 to 2003, Mr. McSweeney was Vice President of Lockheed Martin's Technical Operations, leading an engineering organization of 1,500. During his three-year tenure, Mr. McSweeney and his team achieved CMMI Level 5 maturity and integrated Lean and Six Sigma concepts into the engineering process definition, leading to significant cost savings for the organization.
In 2005, Mr. McSweeney became a board member for the United States Coast Guard Foundation, focusing on the well-being, education and morale of the men and women of the United States Coast Guard. He is a current member of the IEEE Computer Society, Naval Helicopter Association (NHA), Air Force Association (AFA) and the Army Aviation Association of America (AAAA). In 2016, Mr. McSweeney received the Alex Gruenwald Award from the IEEE Long Island Section for enhancing the engineering process and knowledge of IEEE members in IFF communications and radar theory.

Mr. McSweeney holds a B.S. degree in Engineering and Management from Clarkson University and an M.S. in Computer Science from NYU Polytechnic. He completed course work in advanced financial and technology management at Harvard Business School and is a Massachusetts Institute of Technology (MIT) Seminar XXI Fellow.