Learn More About Telephonics Executive Leadership
The Telephonics executive leadership team is fully focused, aligned and committed to not only driving strategic corporate business objectives, but in creating an environment for technological innovation and teamwork that leads to leading-edge products and fosters a close partnership with our customers and the industries we serve. The successful accomplishment of these goals is built upon the fundamental expectation that our leaders proactively demonstrate high ethical standards, support diversity and implement best practices for the health and safety of our employees, our customers and the environment. Led by executive example, these core values are instilled among the entire Telephonics team.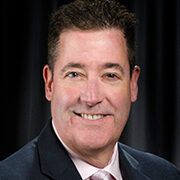 Kevin McSweeney
President
​Mr. McSweeney is an experienced technology business executive with over 30 years of proven defense and aerospace leadership experience. He currently serves as President of Telephonics, a subsidiary of Griffon Corporation, headquartered in Farmingdale, New York.
Rich Hines

Chief Technology Officer

Philip S. Passarello

Vice President, Finance

Jack Enright

Senior Vice President, Operations Office

Christian Bonat

General Counsel

Vann Young

Corporate Vice President,
Human Resources and Communications

Kevin McSweeney

Business Development

Christopher Cassatto

Vice President,
Information Services